M News:

What's New With Us. What Matters To You.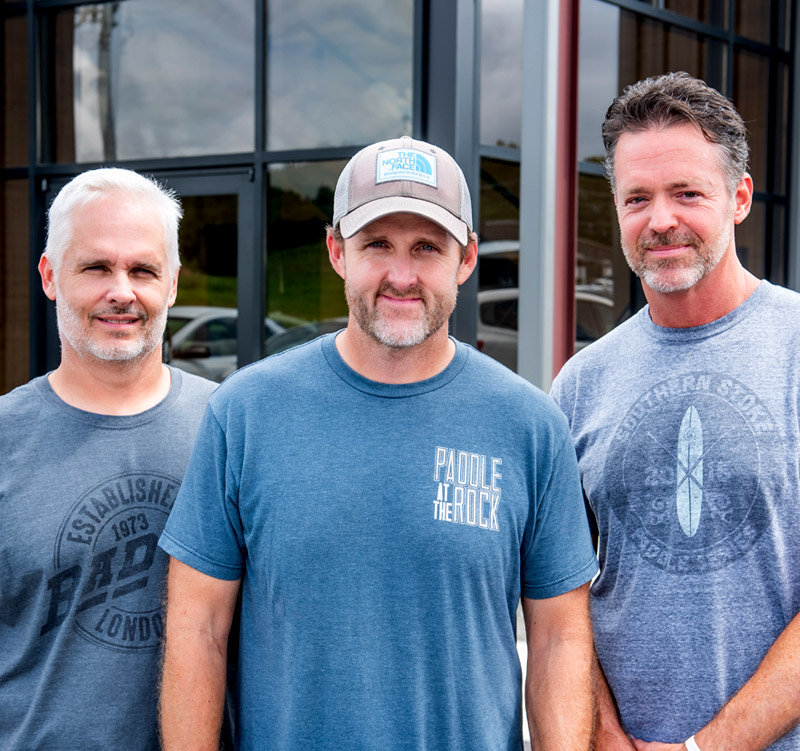 Starting With Novelty Neckties And Growing With Close Bank Ties
September 8, 2020
11:59 am
Shown in photo L to R: Greg Brown, Tommy Cost and David Brown of American Classics
In 1994 David Brown knew he was tired of being on the road selling insurance. That's when a $108 investment in novelty neckties sparked a new direction. He and his mother, who sold novelties at a flea market on weekends were shocked when the neckties quickly sold out, and he was sold on a new business idea. He then opened a kiosk in a Birmingham mall to sell more neckties and branched out into licensed neckties for pro football teams, Star Wars, Andy Griffith and other licenses. The kiosk soon expanded to his own storefront in the mall selling licensed merchandise printed with popular brands, icons, movies, sports and TV and more.
When it became difficult to get enough licensed T-shirts from a supplier, David bought the rights to the Andy Griffith Show through Viacom to print his own. This would eventually lead to acquiring the rights to other iconic TV shows and movies from licensing giants such as Warner Brothers, Universal Studios, 20th Century Fox and others. During this growth stage, David's brothers Greg Brown and Tommy Cost, joined the American Classics team. The three of them found ways and invested in ideas to make the company grow. A sales rep encouraged them to add wholesaling to their business model. Soon after, the brothers started printing T-shirts and merchandise for major retailers such as J.C. Penney's, Kohls and others. Today, American Classics, Inc. services retailers spanning North America. Retailers such as Urban Outfitters, Gap, Buckle, Old Navy, Kohls and many more, all carry American Classics licensed t-shirts.
Though neckties were a thing of the past, the brothers relied on the bank ties with Merchants Bank of Alabama, a division of SouthPoint Bank, who has grown with them. Merchants, where David has banked for 30 years, made the loans for new equipment and then a building loan for a new facility. "Merchants is like family. They make the process so easy," he said. "I can make a call on Monday and have the funds I need very quickly." The American Classics staff has grown to 60 employees, including in house artists. When American Classics needed Small Business Administrative PPP (Payroll Protection Program) loans to avoid layoffs during the COVID pandemic, he called Merchants. When the pandemic shifted so many retailers' business plans, E Commerce sales began to explode through online E-Tailers such as Amazon. David built the business by understanding the appeal of a true classic. That's why he chose the classic local banking model he found at Merchants Bank.

"The business grew out of neck ties at a flea market. Merchants has always been loyal to us, and we are loyal to them."