M News:

What's New With Us. What Matters To You.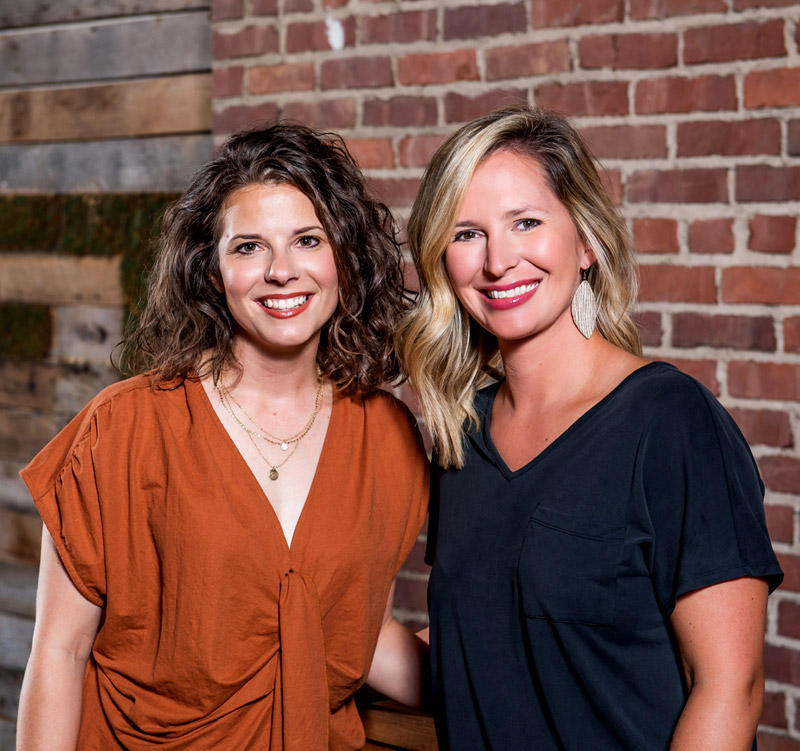 September 8, 2020
12:03 pm
Shown in photo L to R: Loni Floyd and Jodi Hopper, Loft 212
A popular venue to celebrate the big day, began on an ordinary day when Jodi and Loni walked into downtown Cullman's historic Cotton Warehouse and Mule Trade building. The rustic soaring interiors that once held bales of cotton and mules, seemed perfect to hold weddings, proms, and events. They discovered a spacious upper floor, once used to store cotton bales and a truck entrance that would become a picturesque courtyard. "We fell in love with the place," remembers Jodi. "We had been wanting to do something and this was it." They put a lot of thought and prayer into how to turn the warehouse into an event venue, they just needed a bank to put their faith in two 30 something couples with a plan.
The bank they had a personal banking relationship with, didn't share their enthusiasm, as rustic warehouses being thought of as event venues was still new. Luckily, they knew several Merchants bankers, who saw their business model had potential. Merchants Bank of Alabama, a division of SouthPoint Bank, worked with them as they renovated the loft venue and built their clientele. Loft 212 is now a popular choice for those getting married or getting together for reunions, proms and corporate events and draws customers from across Alabama. According to Loni, "Being part of someone's special day is the best part of our business." At Merchants, being able to make the day of one of our local business customers, is the best part of ours.
"It took a lot to give us that kind of money. Merchants had faith in us."
To read our Business Success stories, click here >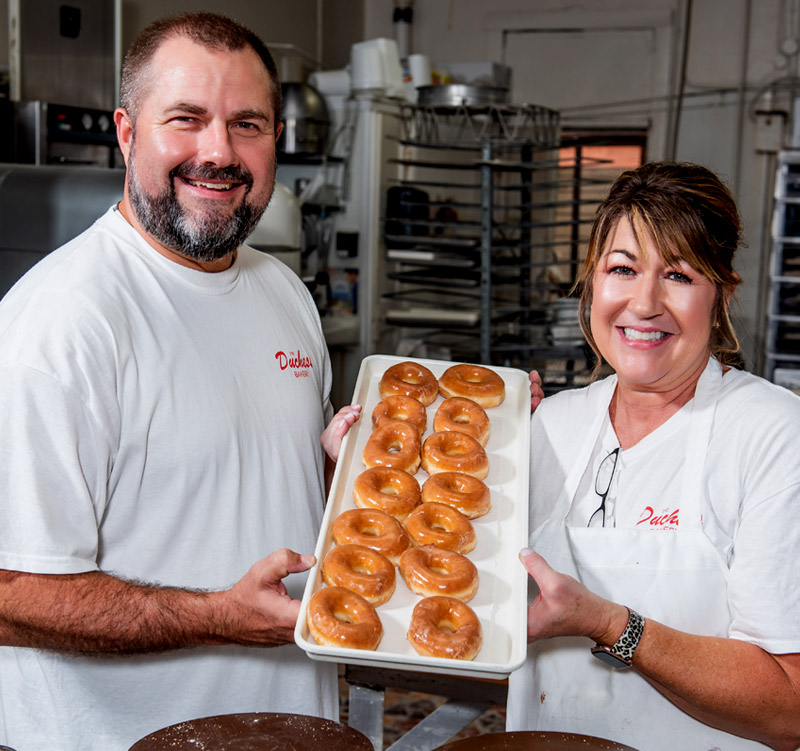 11:52 am
Shown in photo L to R: Jason and Stephanie Neal, Duchess Bakery.
The Duchess Bakery had been part of the sweet side of life in Cullman for 81 years since it opened on 1st Ave SE in 1939. As word spread that the owner, Larry Bontrager, was planning to retire in May of 2020, people lined up early to get a last taste of the donuts that had made the bakery a local legend. That morning Jason Neal got in line at 6:30 am to buy donuts for his family and when Larry came out, Jason told him on an impulse he was interested in buying the bakery. Larry told him to put his name on the back of a business card, and drop it in a bowl with the other 50 or so names.
Jason and his wife Stephanie have owned a local Dairy Queen since 2006 and Jason owns a local insurance agency. With their entrepreneurial spirit others in the community including his daughter had already mentioned to Jason that they should buy Duchess Bakery. Luckily a local businessman handling the sale for Larry was a family friend and recommended the Neals be put on the short list. When the Neals were finally chosen as buyers, Jason approached his good friend and business associate Roger Rich about becoming a partner. After buying not only the bakery and the famous donut recipe, they found themselves owners of a Cullman institution.
Jason, Stephanie and Roger are putting their own touches on the local hotspot by adding a line of premium coffee blends named after their children, as well as merchandise from hats to T-shirts and coffee mugs with the bakery's logo. But their main reason for buying the bakery goes much deeper. "In times like these, people need something good to hold onto," Jason said. "Merchants Bank had always been a part of our family, and I have banked with them my entire banking life." The Neals knew many Merchants Bank of Alabama, a division of SouthPoint Bank, bankers, and knew they understood the value of Duchess Bakery to Cullman.
"Duchess has been a mainstay in our city for generations, just like Merchants. Local businesses help local businesses. That way we all grow."