Our People Make Banking Personal
From helpful in-branch service to in-the-moment mobile and online banking, we have the personal services that make banking a seamless part of your day. Our debit cards, online, and mobile banking enable you to stay in touch with your money. Our friendly staff and convenient hours helps you stay in touch with us. Whatever personal banking services you use, the thing that makes them personal is still the real person that answers when you call.
Debit Cards
We offer instant issue EMV Chip Debit Cards for your convenience. Stop by your local branch and get your debit card that you can use right away. You'll have immediate access to the money in your account. The chip technology provides stronger protection by making it difficult for your card to be copied or counterfeited at chip-enabled terminals as a unique code is created for each transaction. In addition to using your card at chip-enabled terminals, your card has a magnetic stripe allowing you to use it, at retailers who do not yet have chip-enabled terminals. The EMV Chip Debit Card technology provides an enhanced level of security and greater worldwide acceptance as it is already standard practice in more than 130 countries worldwide and more U.S. merchants are accepting chip cards every day.
As more merchants become chip-enabled, you will notice a slightly different experience when you use your card. Insert and leave the chip end of your card into the terminal with the chip facing up. Keep your card in the terminal and follow the prompts on screen. And finally, remove your card when prompted and take your receipt. You may have to sign for your purchase. For online or phone purchases, simply provide your card number and complete your transaction as you do today.
For lost or stolen debit cards, call 1-800-500-1044.
Credit Cards
You chose to bank with us for a lot of reasons and we're giving you one more. Now you can apply online for a Visa® Platinum credit card.
The Merchants Bank Visa® Platinum credit card gives you choices:
Cash Back: Earn a full 1% cash back on everything you buy. There are no spending tiers or minimums. Cash back is earned on all your purchases up to the first $60,000 for consumer ($35 annual fee) in annual spending.
Platinum: Give yourself the buying power of Platinum with a low spending rate and valuable cardmember benefits. (No annual fee)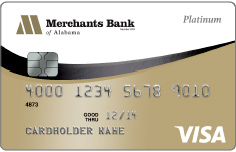 Online Banking / Bill Pay
Take care of your banking needs from home, work or anywhere you have internet access.
Learn More >
eStatements
Use our online banking services to view, print or save your most recent account statements 24/7 and avoid the paper statement fee. It's easy, safe and free to sign up with eStatements. Going online is a great way to go green.
To sign up for eStatements, go to merchantsbankal.com and log into online banking. Then select Accounts – Statements – Statement Preferences – Select Online Only – Save Changes. You are now enrolled for eStatements!
ACH Origination
We offer a new, more convenient way to make payments or transfer money from one bank to another: ACH Origination. You can now make loan payments from a checking account you may have at another bank. Or you can transfer money from another bank account to your account. ACH Origination gives you the peace-of-mind of knowing that while you are out of town your bills will be paid or transfers will still be made.
In Branch Services
Stop by your local branch for Traveler's Checks, Cashier's Checks, Wire Transfers, Stop Payments and Notary Services.
Safe Deposit Boxes
We have safe deposit boxes available at all of our branches.
3 x 5: $20.00
3 x 10: $35.00
5 x 10: $60.00
10 x 10: $110.00
A few of our accounts come with Safe Deposit Box discounts:
The Club & The Club Plus Checking account customers receive a 10% discount
The Club 50 Checking account customers receive a 50% discount
Silver Spirit Club members receive a 50% discount
Other Services
Additional services include Bank-By-Mail, Night Depository, Lock box Services and Check Collection Services. Please inquire today to learn more.
If you have any questions or need more information about any of our personal services, please feel free to contact us at 256-734-8110 or 1-800-840-4458 and start using the services that make banking easy.