Services That Turn Your Bank
Into A Personal Assistant
Our Business Services save so much time you may think that there are actually enough hours in the day. Our business services allow you to do more banking from your workplace or mobile device and leave more tasks up to your bank. Call to learn more and you'll discover a business bank that sees service as a calling.
Payroll Processing
We offer payroll solutions for all your small business needs. We offer a secure website solution where you can safely transfer a NACHA compliance file created by your software or use a simple program that can help you create payroll directly for your employees. Benefits of payroll processing:
Reduce the cost of purchasing and writing payroll checks
Assure funds quickly being sent to your employees account
A secure website that is safe and easy to use
Business Services
The capability to accept credit and debit cards has become a requirement of doing business. Your customers have come to expect the convenience and flexibility, and you get the advantage of faster and more efficient transactions without the hassle of returned checks.
Choosing us to maintain your card processing gives you reassurance of quality service from a community bank that understands your business.
Business Debit Card
We offer instant issue instant issue EMV Chip Business Debit Cards for your convenience. Stop by your local branch and get a debit card that your business can use right away. You'll have immediate access to the money in your business banking account and can use your instant issue debit card at ATMs and participating retailers and service providers.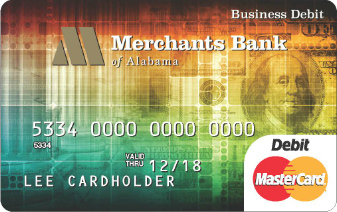 The chip technology provides stronger protection by making it difficult for your business card to be copied or counterfeited at chip-enabled terminals as a unique code is created for each transaction. In addition to using your card at chip-enabled terminals, your card has a magnetic stripe allowing you to use it, at retailers who do not yet have chip-enabled terminals. The EMV Chip Debit Card technology provides an enhanced level of security and greater worldwide acceptance as it is already standard practice in more than 130 countries worldwide and more U.S. merchants are accepting chip cards every day.
As more merchants become chip-enabled, you will notice a slightly different experience when you use your card. Insert and leave the chip end of your card into the terminal with the chip facing up. Keep your card in the terminal and follow the prompts on screen. And finally, remove your card when prompted and take your receipt. You may have to sign for your purchase. For online or phone purchases, simply provide your card number and complete your transaction as you do today.
For lost or stolen debit cards, call 1-800-500-1044.
Business Credit Card
You chose to bank with us for a lot of reasons and we're giving you one more. Now you can apply online for a Visa® Business Platinum credit card.
The Visa® Platinum credit card gives you choices:
Cash Back: Earn a full 1% cash back on everything you buy. There are no spending tiers or minimums. Cash back is earned on all your purchases up to the first $100,000 for business ($79 annual fee) in annual spending.
Platinum: Give yourself the buying power of Platinum with a low spending rate and valuable cardmember benefits.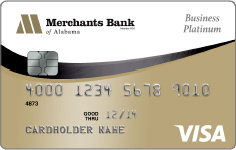 Apply Now >
Online Banking with Bill Pay
Take care of your business banking needs from work, home or anywhere you have internet access.
Learn More >
In Branch Services
Stop by for Cashier's Checks, Wire Transfers, Notary Services, Safe Deposit and Night Depository.
eStatements
Use our online banking services to view, print or save your most recent business account statements. Going online is a great way to go green.