M News:

What's New With Us. What Matters To You.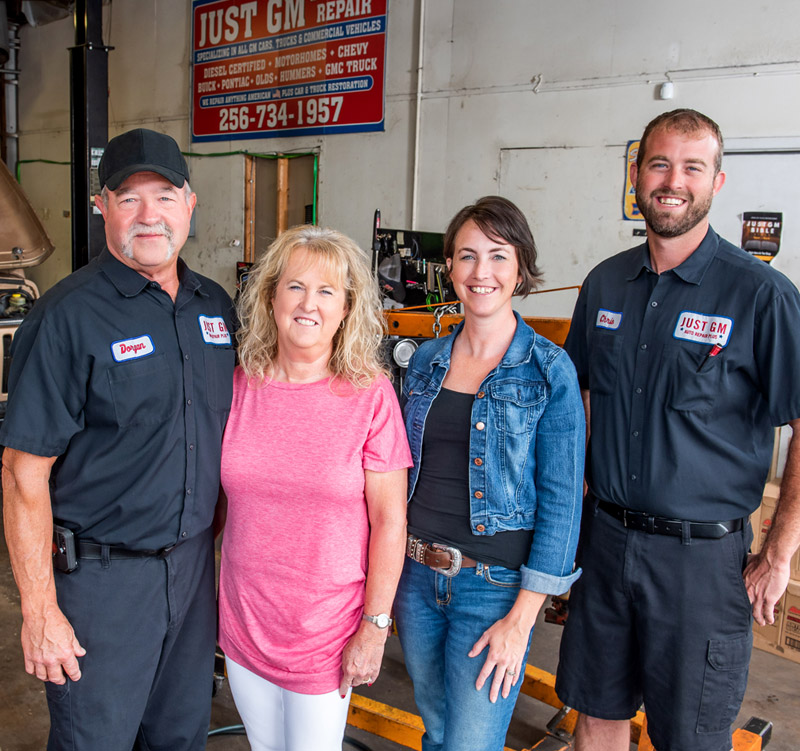 Cullman's Favorite Auto And Truck Repair Needed A Bank For The Long Haul
September 8, 2020
12:07 pm
Shown in photo L to R: Dorgan, Robin, Brittnie and Chris Phillips, Just GM Auto And Truck Repair Plus
Recently voted Cullman's first choice for truck and auto repair, Dorgan Phillips' business has come a long way since starting in 2008. To get there, he chose local banking driven by relationships. Dorgan worked as a master tech at a GM dealership for 28 years. When dealerships began to suddenly close, he saw it was time to switch gears. So he called the bank that over the years had financed not only his home and cars but his rental properties. He had a small shop restoring seven or eight muscle cars, and wanted to expand into his own repair facility, specializing in GM cars and trucks.
Turning that vision into a business, he needed the local banking that could turn things around quickly and that had always been his experience at Merchants Bank of Alabama, a division of SouthPoint Bank. Dorgan's relationship with Merchants has lasted three decades and as many bankers. Relying on Merchants has been a given throughout the rapid growth of his business, the purchase of his then leased mechanic shop in 2013 and in early 2020 Merchants provided the Payroll Protection Program (PPP) loans that helped him weather the pandemic. GM Auto and Truck Repair Plus will soon become a family business as his son Chris takes over. But his business banking relationship has always been like family.
"Merchants is always there for me. They never let you down."